Fool me once, shame on you (9/11false flag + two wars) Fool me twice shame on me.
Posted by SupremePundit
Sep 6
Or no fucking way again you lying puppet.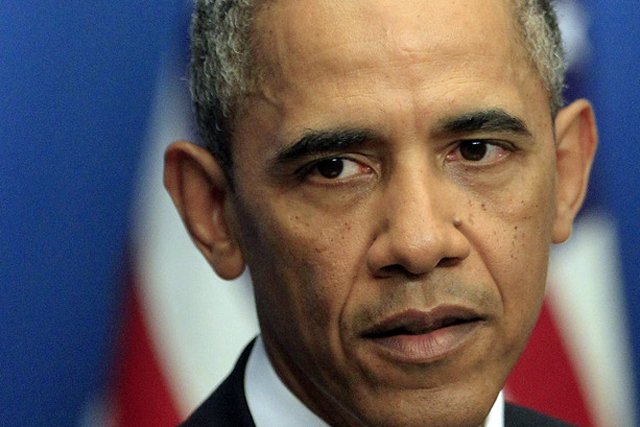 LYING PUPPET
TAMPA, September 6, 2013 – Public opinion polls are virtually unanimous. The American people oppose military intervention in Syria, despite poll questions worded in a way that assumes the Syrian government perpetrated chemical weapons attacks against its own people. The Washington Post/ABC News poll asked:
The United States says it has determined that the Syrian government has used chemical weapons in the civil war there. Given this, do you support or oppose the United States launching missile strikes against the Syrian government?"
---
SEE RELATED: Are American taxpayers financially responsible to defend Syrians?
---
Who could imagine the question being put in words more likely to elicit a favorable response? Nevertheless, Americans were resoundingly against military intervention. 59% said they opposed missile strikes. 36% said they favored them. 5% were undecided.
Results like that in a poll so obviously constructed to achieve the opposite begs the question:
Does anyone really believe the Assad government launched chemical weapons attacks against rebels and civilians?
That virtually every politician and pundit talks about the attacks as if it were proven they occurred and that Assad's government perpetrated them is beyond surreal. U.N. weapons inspectors say that they won't even be able to confirm that chemical weapons were used for two more weeks. Yet, the Obama administration says it is not only certain the attack occurred, but that Assad's government launched it.
---
SEE RELATED: Congress is not authorized to start a war with Syria, either
---
This despite strong suspicion that it was the rebels, not the Assad government that launched the chemical weapons attack earlier this year. As reported by Shaun Waterman in the Washington Times on May 6,
"Carla del Ponte, a member of the U.N. Independent International Commission of Inquiry on Syria, told Swiss TV there were "strong, concrete suspicions but not yet incontrovertible proof," that rebels seeking to oust Syrian strongman Bashar al-Assad had used the nerve agent."
The rebels stood to gain far more from last month's chemical weapons attack than Assad. The government had the upper hand in the two-year-old revolution. The attack would increase the chances that an outside force like the U.S. would join the struggle on the rebels' side. Judge Andrew Napolitano is skeptical that the attack occurred at all and, if it did, that Assad perpetrated it. Writing in the Washington Times, he says,
"Never mind that the photos shown by Mr. Obama's folks of aid workers ministering to the supposed victims of government gassing show the workers without gas masks or gloves, and never mind that the Assad regime has permitted United Nations weapons inspectors unfettered access to its materiel, and never mind that the president wants to invade Syria before the weapons inspectors issue their report. The president wants us to think that the Assad regime intentionally gassed 1,000 Syrian innocents who were of no military value to the rebels or threat to the regime…"
---
SEE RELATED: Syria: The U.S. has learned nothing from Iraq and Afghanistan
---
That's not the only circumstantial evidence questioning the official story. Wikileaks founder Julian Assange told Ron Paul Monday on the Ron Paul Channel that the U.S. government has been waiting for an excuse to intervene in Syria since 2011.
"Stratfor is a U.S. intelligence contractor based in Texas and we got hold of five million of their e-mails. They do consulting work for many different government organizations and private organizations. And one of those e-mails from late 2011, December 2011, is a report back from one of their agents meeting with the U.S. Air Force, members of the French military and British military, speaking about what the hopes and game plan was under various circumstances, essentially by the West, by the U.S. and NATO, if you like. And that they really felt that what they needed was for there to be some humanitarian outrage in Syria and that once they had that, that would legitimize going in with a big airstrike," said Assange.
With no known evidence against the Assad government and strong circumstantial evidence against the rebels, the Obama administration still insists that they have conclusive proof against Assad, but cannot share the evidence. According to the Washington Times, Russian President Vladimir Putin's replied,
"Claims that proof exists but is classified and cannot be shown are beneath criticism. " He added, "If the U.S. says that the al-Assad regime is responsible for that attack and that they have proof, then let them submit it to the U.N. Security Council."
The Obama administration hasn't given the American public any more reason to believe it than Putin does. It's been caught in one lie after another about its domestic spying programs, according to Forbes magazine.
It's also fighting the specter of a war in Iraq over weapons of mass destruction that didn't exist.
The truth of what happened in Damascus last month will be known eventually. Until then, the Obama administration is trying to sell a dog that just won't hunt to an American public that's weary of war and has little reason to believe its government about anything.
If experience is any teacher, Americans would be wise to remain incredulous.
Tom Mullen is the author of A Return to Common Sense: Reawakening Liberty in the Inhabitants of America.
Does anyone really believe Assad used chemical weapons in Syria? | Washington Times Communities.