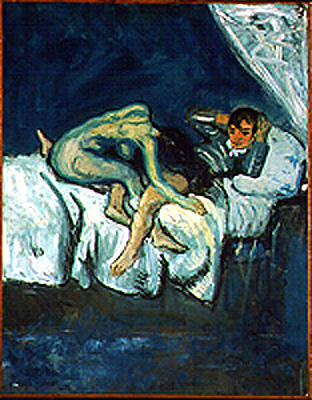 The older woman is giving fellatio to a very young boy. This is pedophilia. This was apparently normal enough everyday activities that it warranted being documented by the painter.   The very X-rated Picasso painting soon to be shown at the Metropolitan Museum (which owns it).
Gary Tinterow, the Met's curator in charge of 19th-century, modern and contemporary art, told Carol that the work hadn't previously been shown "not because of its subject matter or because of questions of its
authenticity, but because it's not very good." But 13 years ago, another Met curator (who requested anonymity) had told me (scroll down) that the painting was in storage because the 20th-century galleries were populated "by so many school children."
And we do not want any of those boys to think they can receive a cock sucking from anyone at any time in their lives.  For gods sake his career has not even started yet.  What if he is never able to provide for all her needs?
via CultureGrrl | NY Times Timing: Last on Picasso, First on Panza.