Daryl not using her safe word yet..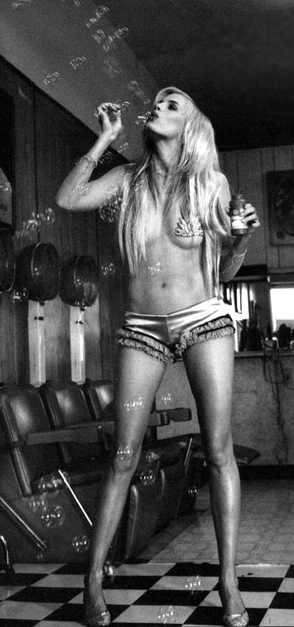 She must have been a disciple of Al's "the debate is over" mantra putting her casting couch contest winning body in harms way.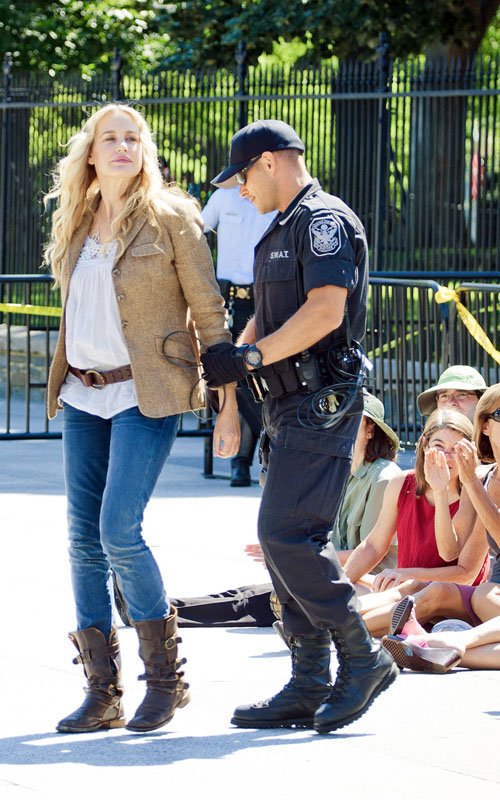 While Daryl was getting frisked the former Vice President Al Gore was actually elsewhere spouting off that:
"One day climate change skeptics will be seen in the same negative light as racists",
In an interview with former advertising executive and Climate Reality Project collaborator Alex Bogusky broadcast on UStream on Friday, Gore explained that in order for climate change alarmists to succeed, they must "win the conversation" against those who deny there is a crisis.
"Win the Conversation" Al, Al, Al what the hell happened to "the debate is over"? Did your lackeys get caught manipulating the data?
Al went on with this gibberish as an explanation:
"I remember, again going back to my early years in the South, when the Civil Rights revolution was unfolding, there were two things that really made an impression on me,"
"My generation watched Bull Connor turning the hose on civil rights demonstrators and we went, 'Whoa! How gross and evil is that?' My generation asked old people, 'Explain to me again why it is okay to discriminate against people because their skin color is different?' And when they couldn't really answer that question with integrity, the change really started."
Just like when he invented the internet.
The former vice president then went on and recalled how society succeeded in marginalizing racists and said climate change skeptics must be defeated in the same manner. But Al is forgetting how we also marginalized "communists" or anyone that someone did not like in the McCarthy era by calling them a communist!
Al apparently thinks that if he just points the finger at his opponents and vilifies them with a label that we will shun them.  Debate over.
But we all know Al got a "D" in science only because the professors at the huge expensive Ivy League universities are not allowed to fail students. What we did not suspect is that he also did poorly in debate class. Please, an ad homonym (personal character) attack.
Al continued to spew:
"Secondly, back to this phrase 'win the conversation,'" he continued. "There came a time when friends or people you work with or people you were in clubs with — you're much younger than me so you didn't have to go through this personally — but there came a time when racist comments would come up in the course of the conversation and in years past they were just natural. Then there came a time when people would say, 'Hey, man why do you talk that way, I mean that is wrong. I don't go for that so don't talk that way around me. I just don't believe that.' That happened in millions of conversations and slowly the conversation was won."
"We have to win the conversation on climate," Gore added. But Al failed to bring up how much he stands to profit from trading carbon credits if this global warming/climate change/man is bad foolishness gets put into law.
When Bogusky questioned Al's analogy, asking if the scientific reasoning behind climate change skeptics might throw a wrench into the good and evil comparison with racism, Al did not back down as facts are not part of the "conversation".
"I think it's the same where the moral component is concerned and where the facts are concerned I think it is important to get that out there, absolutely," Al said.
Of course morality and facts be dammed.  Al and his cronies are going to use personal attacks on all those scientists that have data proving them wrong and paint those scientists with a raciest / communist / baby seal killer brush.
Gore also took shots at Texas Gov. Rick Perry, who has schooled climate change alarmists on the presidential campaign trail, and at other politicians who dare to question the veracity of global warming science.
"This is an organized effort to attack the reputation of the scientific community as a whole, to attack their integrity, and to slander them with the lie that they are making up the science in order to make money," Gore said.
This recent spewing from Al must be in response to Gov. Perry for publicly stating that he stood with an increasing number of scientists who have challenged the existence of man-made global warming threats.
In the last four years more than 31,000 American scientists from diverse climate-related disciplines, including more than 9,000 with Ph.D.s, have signed a public petition announcing their belief that
"…there is no convincing scientific evidence that human release of carbon dioxide, methane, or other greenhouse gases is causing or will, in the foreseeable future, cause catastrophic heating of the Earth's atmosphere and disruption of the Earth's climate."
Included are atmospheric physicists, botanists, geologists, oceanographers, and meteorologists.
In 2008 an international survey of climate scientists conducted by German scientists Dennis Bray and Hans von Storch revealed deep disagreement concerning two-thirds of the 54 questions asked about their professional views, with responses to about half of those areas skewing on the "skeptic" side and no consensus to support any alarm.
The majority did not believe that atmospheric models can deal with important influences of clouds, precipitation, atmospheric convention, ocean convection, or turbulence. Most also did not believe that climate models can predict precipitation, sea level rise, extreme weather events, or temperature values for the next 50 years.
A 2010 survey of media broadcast meteorologists conducted by the George Mason University Center for Climate Change Communication found that 83% believe global warming is mostly caused by natural, not human, causes. Those polled included members of the American Meteorological Society (AMS) and the National Weather Association.
Additionally another survey published by the American Meteorological Society found that only one in four respondents agreed with UN Intergovernmental Panel on Climate Change (UN IPPC) that claims that humans are primarily responsible for recent warming.
A literature review of  928 scientific papers published on "global climate change" between 2004 and 2007 that appeared in a 2008 issue of Environment & Energy , reported that 31 (6%) of 591 explicitly or implicitly rejected the idea of consensus that more than half of warming over the past 50 years was likely to have been anthropogenic. Fewer than half endorsed consensus, and only 7% did so explicitly.
The statement that 97% of all climate scientists believe in anthropogenic global warming can be attributed to cherry picking from a very brief online survey of "over 3,000 Earth scientists" published by the American Geophysical Union (AGU) in 2009 that asked
"do you think human activity is a significant contributing factor in changing mean global temperatures?"
Not addressed was which human activities any affirmative answer would be linked to, such as: CO2 emissions, and land use changes including agriculture, urbanization and deforestation. Nor was it clear what the question meant by "significant contributing factors" — whether it was intended to mean that they were statistically measurable, catastrophic, or quite plausibly, even desirable.
The notorious, poorly done, endlessly reported AGU survey excluded a broad spectrum of important scientific disciplines, including solar scientists, astronomers, meteorologists and physicists.
NOTE:

Of 10,000 contacted,

about 3,000 replied to the ambiguous question,

and of those, 82% answered yes.

Then of these, the researchers considered only a small subset of just 77 who had been successful in getting more than half of their papers recently accepted by peer-reviewed climate science journals, and found that 75 of them answered yes.

Can anyone say; you can lie with statistics?

As scandalous ClimateGate e-mail records reveal, research proposals and reports not premised on dangerous anthropogenic climate change face stiff funding and publishing obstacles.

SO; of the more than 10,000 who were contacted and the 3,000 who replied, the purported "97% consensus" was based upon just 77 cherry-picked respondents and represented only a narrowly-defined scientific population.

Well so much for scientific consensus!
What about the majority opinions of those who will ultimately determine results of the next presidential election – the voters? Whom do they trust most on climate science matters?
While Rasmussen polls since May 2010 indicate that people are about equally divided on whether human activity or long-term planetary trends are "to blame" for global warming, the majority don't trust climate science very much at all.
The latest Rasmussen Reports national telephone survey of American adults shows that 69% think it's at least somewhat likely that some scientists have falsified research data in order to support their own theories and beliefs.
This is up 10% since December 2009. Included are 40% who say it is very likely, while 10% are undecided.
Fifty-seven percent believe there is significant disagreement within the scientific community, up 5% from late 2009.
So maybe Governor Perry would do well to use this to latest Gore-ism to school him on some science and the scientific process.  It appears he could use it.